As more states legalize the use of cannabis for both medicinal and adult use, the market is growing exponentially. For growers and dispensaries, that means bringing their 'A' game when it comes to marketing their cannabis products – and that includes labels.
Not only do your cannabis labels need to be compliant with regulations, but you also need to make sure they stand out from the competitors. However, while creating a label seems like it should be easy, it can be a challenge to navigate the complex and murky legal landscape.
But don't worry, we've got your back! Let's take a look at the key federal regulations you need to be aware of, what NOT to put on cannabis labels and expert advice to help you find the perfect label material for your brand. Let's get started.
Cannabis Labeling Requirements: What You Need to Know 
As of now, cannabis has not been ruled legal in all 50 states. However, states where cannabis is legalized determine their own set of rules and guidelines. These legislative guidelines are constantly being updated and revised for the labeling and packaging of cannabis products, so staying compliant can be challenging for dispensaries and manufacturers.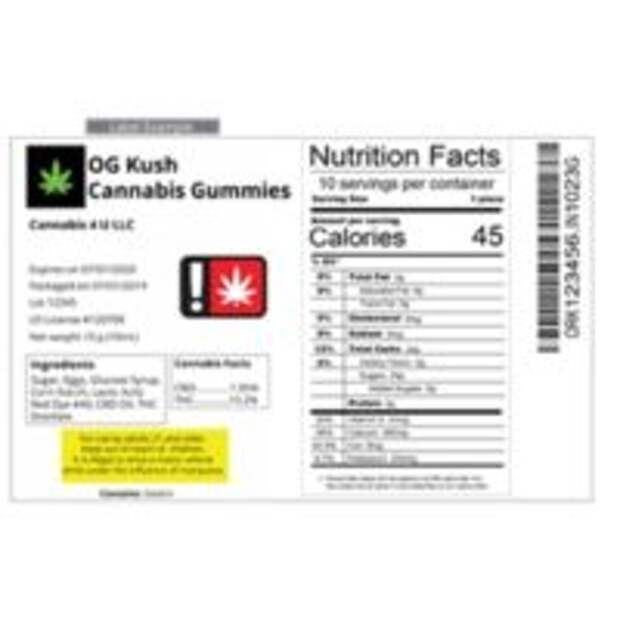 Since packaging laws vary by state, it's important to follow general federal regulations for your product, as well as check your state for cannabis-specific label requirements.
At the very least, you should understand and follow cannabis labeling regulations in accordance with the Federal Food, Drug, and Cosmetics Act (FDCA). Let's dive right into the basic elements that FDCA requires when labeling cannabis products.
Name and Location of Business: It is critical to always include the name and location of your business on both the inner and outer information panel. In doing so, customers always have a way to contact you for any questions. If you are worried about taking up too much space, a QR code is a great way to offer additional information.
Product Identity: Is your product meant to be used for adult or medicinal use? You must include what your cannabis product is or does on the Product Display Panel (PDP) so it's easy for customers to locate.
Net Quantity of Contents: Net quantity refers to the total weight or volume of a finished product (excluding packaging) and is federally mandated on labels. For packaged liquid cannabis products, net quantity should be labeled in fluid measure. Meanwhile, packaged solid, semi-solid and viscous cannabis products should be labeled in dry weight.
Warning Statements: Since cannabis is still listed as a Schedule 1 Controlled Substance, it's recommended to include warning statements for the specific product types. For example, the warning statement should stay "for medical use only" for all medical cannabis products.
List of Ingredients: You must include a complete declaration of all ingredients in your cannabis product. This must be listed on the informational panel on the outer packaging. If there is no outer packaging, then it must be placed on the product package itself.
Disclosure of Critical Facts: In general, this includes critical …